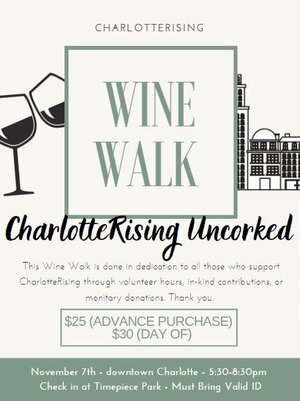 Wine Walk Ticket
This Wine Walk is done in dedication to all those who support CharlotteRising through volunteer hours, in-kind contributions, or monetary donations. Thank you.
This event will be held on Thursday, November 7th 5:30pm-8:30pm.
This ticket gets you 11 wine tastings in downtown as well as light snacks and appetizers.
Donors and City Club members will be welcomed to a VIP reception in Timepiece Park, starting at 7:30pm
Check in at Timepiece Park - Must Bring Valid ID - 21+ Event Only